In October 2023, a group of students performed in the Yorkshire Schools Dance Festival held at the Carriageworks in Leeds City Centre. The festival showcases performances from around 1200 children of all ages and abilities in a non-competitive annual dance event, with each year based around a theme - this year the theme was dreaming.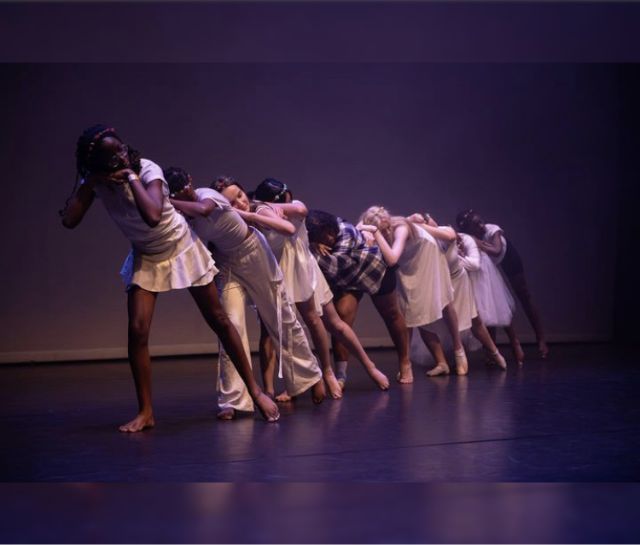 Tian Liu, the student executive president set up the Ignite Dance enrichment last year - "We are a newly founded, student-led dance club that has shared a passion of dance and k pop music. Our starting point was a spontaneous brain dump of songs that we thought resonated with the mood of 'dreaming'. As we have a love for k pop music, we wanted to find a song that matched the theme. By using the lyrics and dynamics of the song 'Butterfly', we came up with the concept of a lonely but imaginative girl sleeping and submerged into a dream about dancing with butterflies. A place of tranquillity, where you are free like a butterfly. Overall we bonded together, shared our dedication and created a beautiful dance piece in a matter of a few weeks."
There were 9 girls from upper and lower sixth from Notre Dame who took part. The festival involved a workshop with a choreographer from Leeds City College, who taught them an urban/street dance routine. This was followed by talks by reps from the Northern Contemporary Dance School and the Phoenix Dance College. After rehearsals, the 10 groups performed in front of the Lord Mayor, a small audience, and the other schools/colleges.
The group put together a fantastic dance piece in just a few weeks, following Tian getting in touch with the organisers. Feedback from the girls was really positive - Paige, a member of the Ignite Dance group recalls her experience - "It was a great day of talented dancers from all backgrounds and ages. As some of the oldest there, we hope we inspired some of the younger generations that attended. We have a chance to participate in hip hop workshops and watch some of the fantastic interpretation of 'dreaming' dance."