We had a whirlwind week of celebration here at Notre Dame as our staff and students took part in a variety of events to explore the plethora of cultural backgrounds within our community.
From 22 to 26 October, as part of our ongoing celebrations of diversity, we encouraged students to explore the identity of their peers during tutorials, invited a visiting speaker to our assemblies, and hosted a day of fabulous activities. The highlight of the week was an informative and engaging cultural show with a fantastic atmosphere of pride and celebration, organised by upper sixth business students.
To kick the week off, Tom Chigbo, the first ever black president of the students' union at the University of Cambridge, talked to us about the importance of genuine engagement with the cultural history of our peers. He asked us to converse with our friends and colleagues about aspects of their identity such as country of origin, to seek points of connection between us, and gain a more in depth understanding of how we may all be influenced by our backgrounds.
At the end of the week, our upper sixth business students arranged and hosted a day of cultural events including a food market where students sampled cuisines from every continent. This team of young people had to present their plan for the day to our NCOP Officer in order to be given funding for their activities. On the day, students and staff wore national dress or clothing that represented their cultural heritage, painted their faces with national flags, and posed in our photo booth. In the afternoon, our main hall was packed out by students and staff attending the cultural show. They listened attentively to presentations about the customs of different countries and religions, as well as dancing, singing and cheering in response to music and performances from around the world. Also in the audience were key NCOP staff including the Leeds Project Manager, Alice Taylor, who thoroughly enjoyed the event.
Ms Ashton, the business tutor behind the student-led events, said: 'We are so proud of the students' achievements on this project, they have worked together as a team for the last seven weeks to plan and deliver an enjoyable event, bringing a wealth of cultural backgrounds together.'
Here at Notre Dame, we value the cultural and religious diversity of our students and staff, and recognise the richness this brings to our college. We have an ethos of tolerance and respect for the backgrounds and beliefs of others.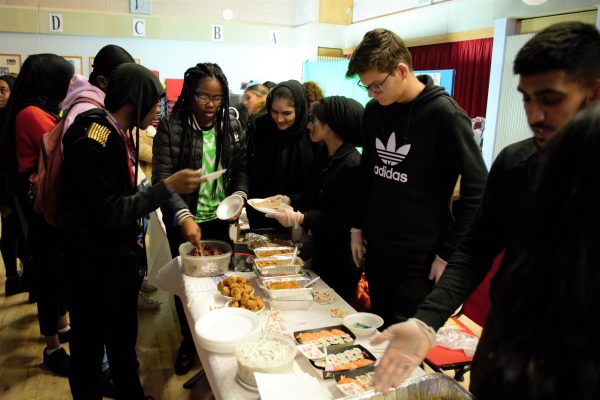 One corner of the busy food market.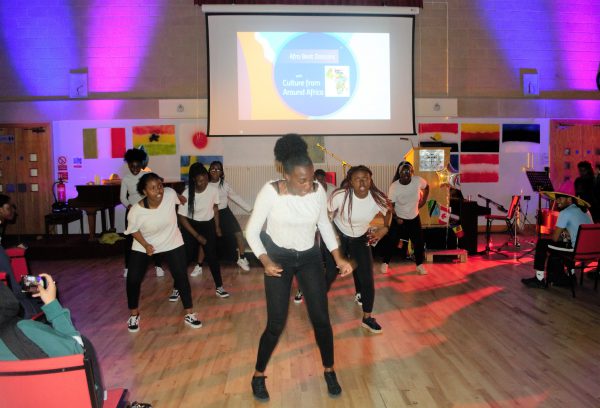 Afro Beat Dancers.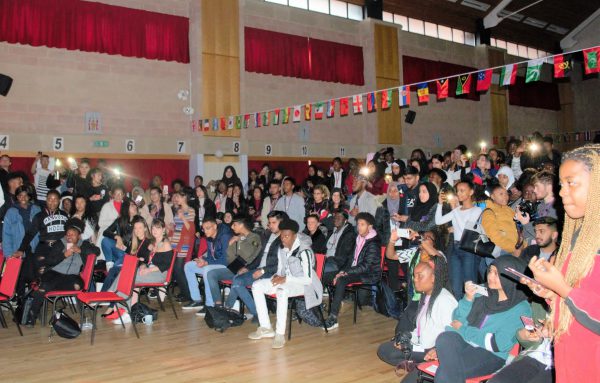 Their audience!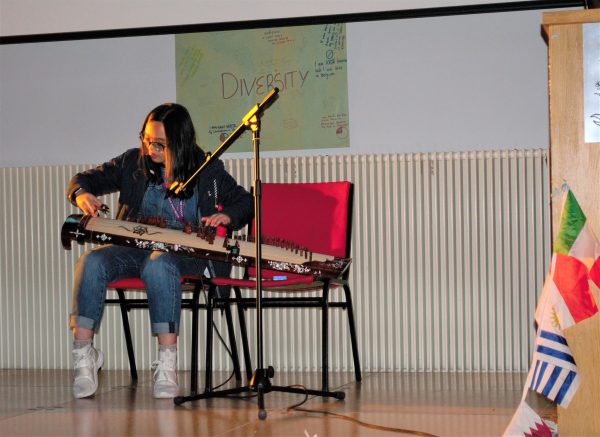 A student playing the Vietnamese Zither.