When They See Us is imperative viewing.
This four-hour masterpiece rightfully embeds itself into your heart and refuses to leave. Written and directed by Ava Duvernay, and released in May 2019, When They See Us tells the story – in an attempt to bring some form of justice – of the "Exonerated Five", formerly known as the "Central Park Five".
In New York's Central Park during 1989, a female jogger was attacked and raped which resulted in the wrongful arrest and imprisonment of five Black and Latino teenagers aged thirteen to sixteen. Antron McCray, Kevin Richardson, Yusef Salaam, Raymond Santana and Korey Wise had their innocence and youth clawed out from under their feet as they, like so many others, became victims of the racist and prejudiced American justice system. They served sentences spanning from six to thirteen years and were only cleared of charges when a different man was proven guilty through a confession and supporting DNA evidence. On their release, the wrongfully convicted were given a $41 million dollar settlement. While rich in pocket, these young men missed vital years from their youth by no fault of their own. Through the short series, which is now available on Netflix, Duverney depicts their struggle, pain, and preventable development of emotional and physical trauma.
When They See Us is emotionally painful to watch, yet it is just as agonizing to take your eyes away due to the bruised, layered performances from the young leads (Jharelle Jerome, Caleel Harris, Asante Blakk, Marquis Rodriquez, and Ethan Herisse). One of the Exonerated Five, Kevin Richardson, rightfully said "it is painful but necessary to watch".
The only actor to play one of the five as a teenager and, later in the series, in adult life is Jharelle Jerome, who won an Emmy for Outstanding Lead Actor in a limited series or movie. Jerome portrays Korey Wise, who was sixteen at the time of his arrest and originally went to the police station only to support his friend, Yusef Salaam, who was called in for questioning. As the eldest, Korey Wise was spat straight into an adult prison and served the longest sentence out the five. Episode four of When They See Us dedicates itself solely to the story of Korey Wise who himself commented on how Jerome's portrayal of him "introduced my pain to me" in an interview with Oprah Winfrey, where he described his current post-prison situation as "life after death." Jerome seamlessly matures from a young character to a twenty-nine year-old man scarred by experiences in a violent adult prison.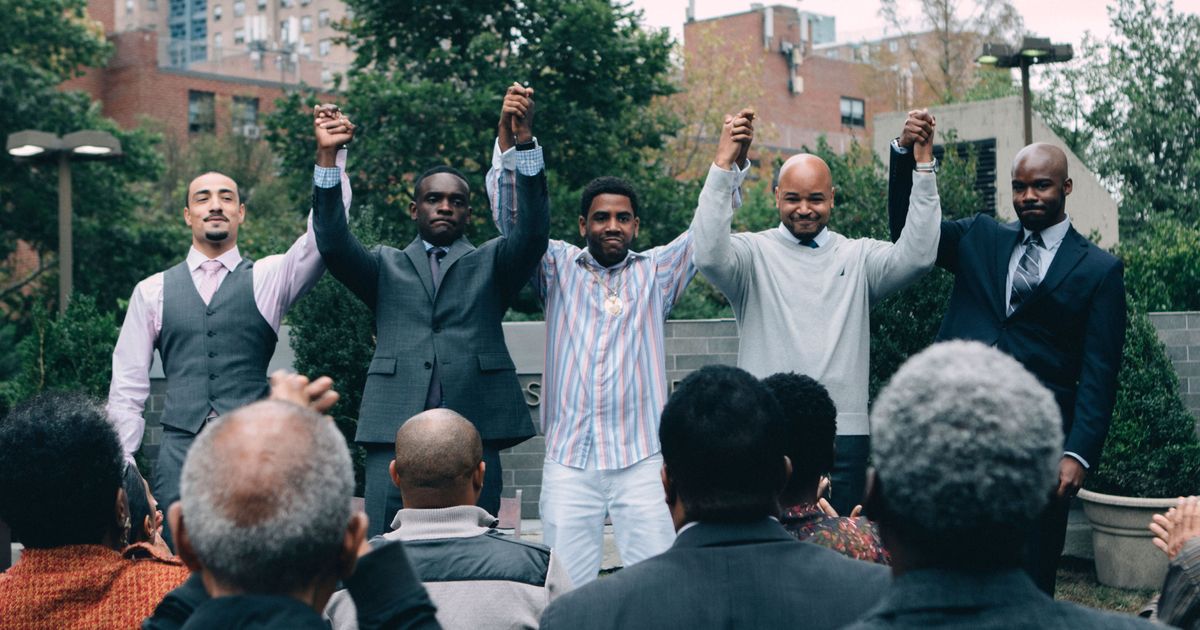 The older cast of When They See Us.


The writer and director of the series, Ava Duverney, is an American filmmaker. In 2012 she became the first Black woman to win the Best Director Award in the U.S. Dramatic Competition at the Sundance Film Festival for one of her feature films: Middle of Nowhere. When They See Us is a superbly written and directed piece of art which gives a voice and platform to these five men whose truth is finally being exposed, thanks to Duverney. The series gives their story necessary recognition and strips away layers of peaceful ignorance people may have regarding racism and the depth of its presence in society. Every aspect and moment of When They See Us is deliberate and carefully created by Duverney to spark conversations and understanding, as well as anger and shock, in the minds of the audience, even down to the name of the piece. The original title was "The Central Park Five", however Duverney claimed it felt wrong as that was a label forced upon them at the time, much like their sentence was. The words "when they see us" instead introduces a piece that exposes truth, and equally allows the five men to see what each other experienced.
Just as the interrogating lamp was harshly shone into the faces of these men as teenagers, When They See Us casts a bright light onto the dark reality of structurally embedded racism and wrongful convictions and makes for essential viewing.