Students taking part in the Trinity Cup.
Why would God allow suffering? Should animals have rights? Is there a Heaven? Would we be happier without social media? These were some of the questions facing 40 year 10 students from schools across Yorkshire including; four teams from Cardinal Heenan, Catholic High School, two from Corpus Christi Catholic College, one from St John Fisher, Dewsbury and one from St Thomas a Becket, Wakefield; at an event organized and led by Notre Dame Sixth Form College in collaboration with Leeds Trinity University who not only sponsored the event but also provided an expert judge, Dr. Ann Marie Mealey. The beautifully engraved cup and book vouchers where awarded to a team from GSAL, and a special commendation award was given to a student from Corpus Christi Catholic College for her thoughtful contributions. All students who took part were presented with a certificate of participation by Notre Dame Principal Justine Barlow, and a smaller trophy, designed and made in our Head of Design and Technology, Ian Granger to recognize their contributions. The students and staff who attended were overwhelmingly positive about the day especially our Sixth Formers who helped run the event who were called 'super friendly by the Year 10 students.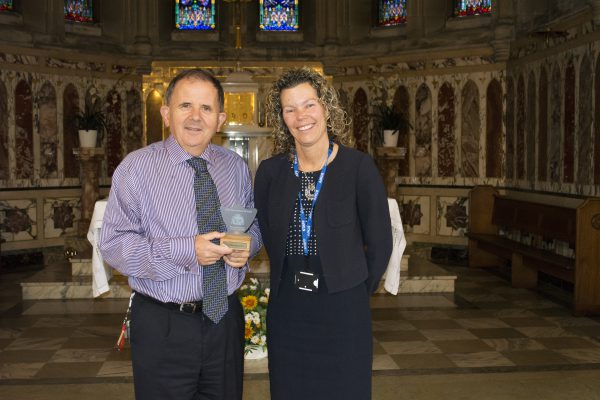 Vince Gibbons Deputy Head of Cardinal Heenan receiving the trophy of participation.