The students pictured are, from left to right, Ben, Eliza, Fabian, Jo, Molly, Caitlin and Hannah.
Seven Notre Dame students took part in the Institute of Ideas' prestigious 'Debating Matters' competition at Leeds Becket University on Wednesday 28 March 2018.
This all-day Yorkshire-wide event attracted the best student debaters from sixteen schools and colleges. Notre Dame's 'Magnificent Seven' debate team consisted of Hannah Boyle, Eliza Duckworth, Fabian Newton-Edgar, Jo Parker, Caitlin Pawson, Ben Robinson and Molly Swales.
The students had to grapple with a range of debate topics, including whether or not monuments to controversial historical figures should be taken down, and whether or not Populism is a threat to democracy. The team won their first debate in the morning, but were edged out in the second debate by the eventual winning team from Ilkley Grammar School. The Notre Dame students were still involved all afternoon in the semi-final and grand final debates, however, as the format allows audience members to pose tricky questions for the teams taking part.
The Notre Dame team had cause for celebration in the end, when Hannah Boyle was commended by the judges for her contributions in both debate and audience questions. Even more spectacularly, Caitlin Pawson beat all the other students to win the Most Highly Commended Award from the judges for the outstanding quality of her questions throughout the day.
Kevin Warnes, who teaches Politics at Notre Dame and managed the debating team, said that: 'The students did fantastically well, matching tough opponents in successive debates and asking really probing questions as the day progressed. Their commitment and consideration for others was exemplary and they were a fine set of ambassadors for the College. Every single one of them had a great day and I was proud to be there with them. I also very much hope that the four year 12 students who took part will be able to return next year to win the trophy!'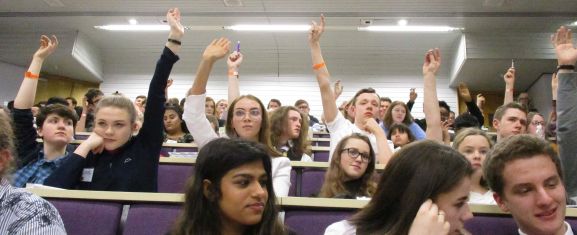 Thanks to Debating Matters and the Academy of Ideas for this photo of our students in action.