Our students re-enacted the nativity scene. In the last week of the autumn term, the Notre Dame community celebrated the end of Advent and the coming of Christmas during our student assemblies. Each day, our staff and students retold the nativity story using a combination of readings, enacted scenes, and a very special guest: a young baby brought in for the occasion by a member of college staff currently on maternity leave.
Our students were fully involved in each service, with volunteers taking the roles of the Holy Family and the three wise men, in addition to playing the piano and singing beautifully. This year, our nativity incorporated a reflection on the plight of refugees across the world, who may also have found 'no room at the inn'.
Throughout December, tutor groups had been collecting food and household items to donate to a chosen charity, and at the end of each assembly, our students took every box of donations up on stage. At Notre Dame, we greatly value this annual charitable tradition of ours, as it helps students to understand part of the underlying ethos of the college: gratitude for what we have and for what we can share with others.
College staff also had the opportunity to celebrate the season by attending an Advent service with past staff and governors, and a carol service on the last day of term. The staff choir, led by Head of History Mr Tom Dixon, did a sterling job of leading the assembled people in singing familiar Christmas carols.
Music also greeted staff and students on their return to Notre Dame after the Christmas break. Spanish tutor Mrs Chary Gonzalez-Latham serenaded those attending assemblies with an Epiphany carol, before explaining about different celebrations of Epiphany in different countries. The Catholic church celebrates Epiphany on January 6, which is the date when the three wise men presented baby Jesus with symbolic gifts: gold to represent his regal status, frankincense for immortality and myrrh as a symbol of his mortal life. It is at this point that the baby Jesus was revealed to the gentiles, which is where the festival gets its name: epiphany means 'the manifestation of a divine being' or the moment of a great revelation.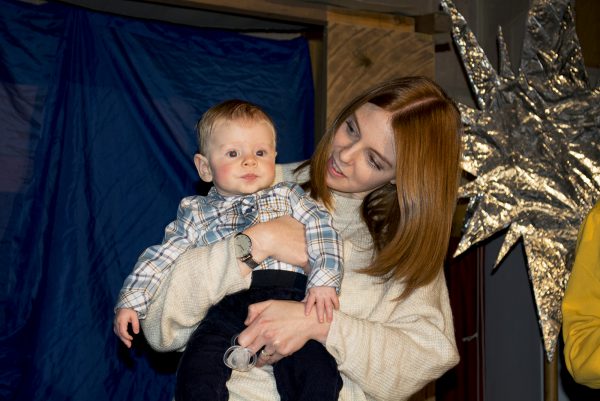 One of our special guests attending a nativity assembly.