All lower sixth students were released from lessons on Monday March 19th to attend the tenth annual Notre Dame Higher Education (HE) Day.
The programme for the morning included presentations from university ambassadors focusing on: choosing a degree subject and university; how to write a UCAS personal statement; and the basics of student finance for higher education study. Students were also able to chat one to one with the 53 universities and other organisations who set up stands in the Sports Hall as part of an HE fair.
In the afternoon, 43 visiting HE academics offered subject-specific workshops in a broad range of areas including medicine, design, accounting, apprenticeships, classics, and university summer schools. The students were each able to attend two workshops, enabling them to gain a much better understanding of their available options once they leave Notre Dame.
Feedback from students after the event was extremely positive, with many commenting on how much more prepared they felt regarding their next steps for post-18 progression. After the Easter holidays, our lower sixth will carry out further research into degree and university choices, then begin work on applying to university. Students will also continue to explore alternative options such as apprenticeships and school leaver programmes.
Our students are extremely fortunate in being offered such an outstanding opportunity for career planning as HE Day affords, and grateful thanks goes to the Careers Team for their hard work in organising the event.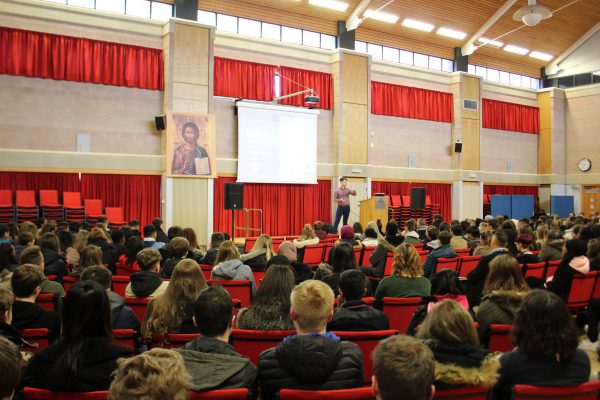 A visiting speaker from King's College London explains how to choose the right degree course and university.